Solutions that are truly personalized
LIVEOP's products are designed to give your organization greater control over crisis and incident management. Versatile, user-friendly, intuitive, and with an eye for detail.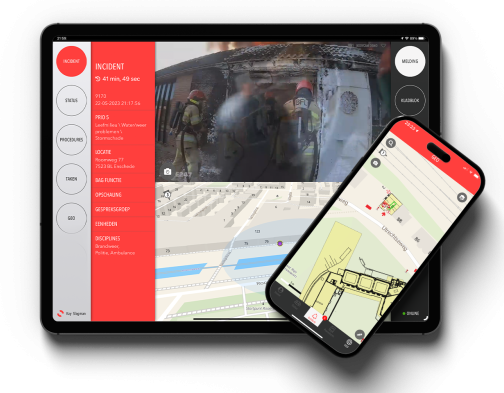 CUSTOMIZE YOUR OWN PACKAGE
Choose the products that suit you
Within the LIVEOP platform, you can select the products that meet your organization's needs. So you only pay for what you need.
Ready to use
The LIVEOP platform is fully operational and ready for use. This means you can get started quickly without spending time and money on hosting and technical maintenance.
Seamless integration with external applications
The LIVEOP platform's applications can be modularly acquired and are highly compatible with other systems.
Efficient collaboration
Effortlessly and in real-time, share information within your organization and with neighboring regions, thanks to LIVEOP's unique solutions.
Incident- & crisis management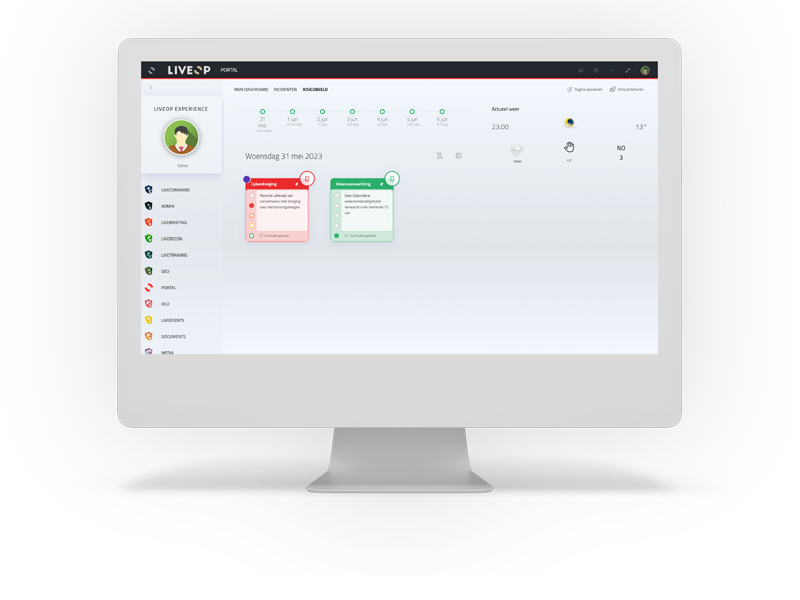 LIVEOP PORTAL
A centralized, personalized portal for the integration of risk dashboards and incident information.
Risk dashboards
Integration with PowerBI
Incident viewer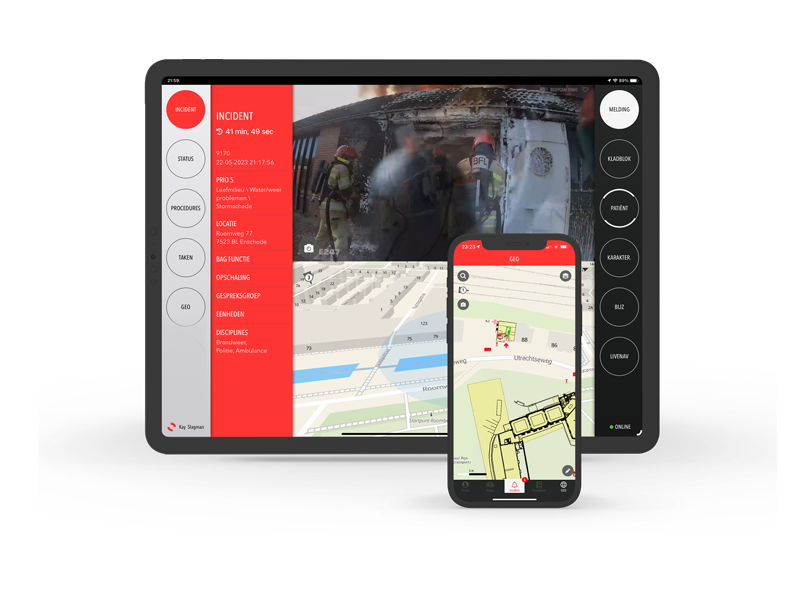 LIVEOP
Mobile operational collaboration for incidents and crises.
Operational incident information
Geo-viewer
Live video streams
Real-time communication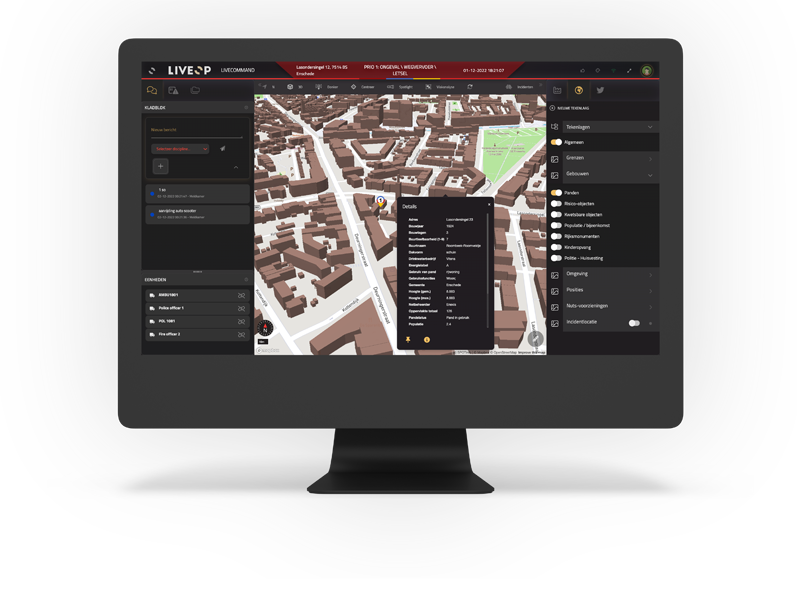 LIVECOMMAND
Control the battlefield with our digital command center. Create, manage, and collect relevant information during incidents for optimal direction.
Coordination of incidents and crises
3D Geo
Real-time intelligence
Navigation and fleet management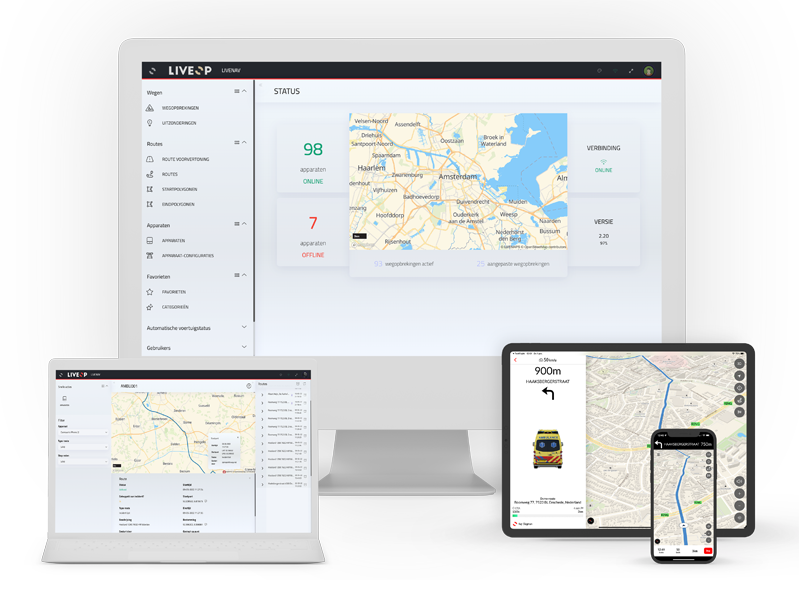 LIVENAV
Optimal vehicle navigation with total control over your preferred routing.
User-friendly incident navigation for emergency services
Road and preferred route management
Roadblock management
Route and device monitoring
Routing based on vehicle profiles
Integration with smart traffic lights
Coordination and training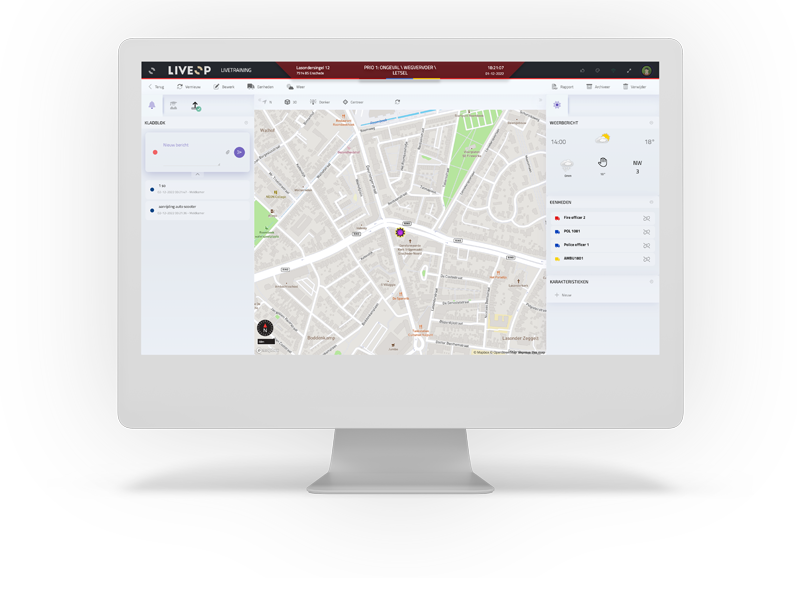 LIVETRAINING
Advanced training module for realistic training scenarios.
Manage training incidents
Customized weather conditions
Reporting
LIVERECON
Coordination of reconnaissance units and dangerous substances analysis
Coordination of measurement assignments
Analysis of measurement results
Management of instructional material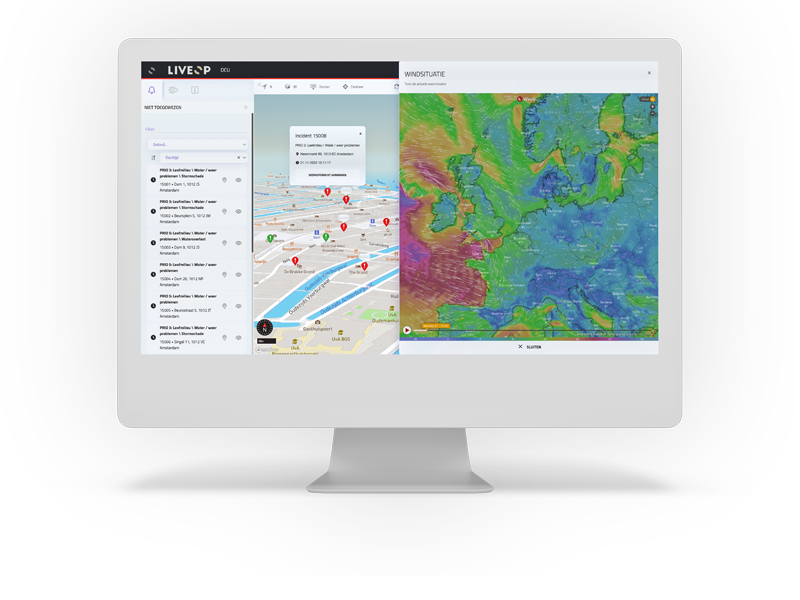 DCU
Maintain control during periods of extreme pressure with decentralized coordination.
Decentralized coordination of incidents and work assignments.
Insight into extreme weather conditions
Direct communication with vehicles in the field
Reporting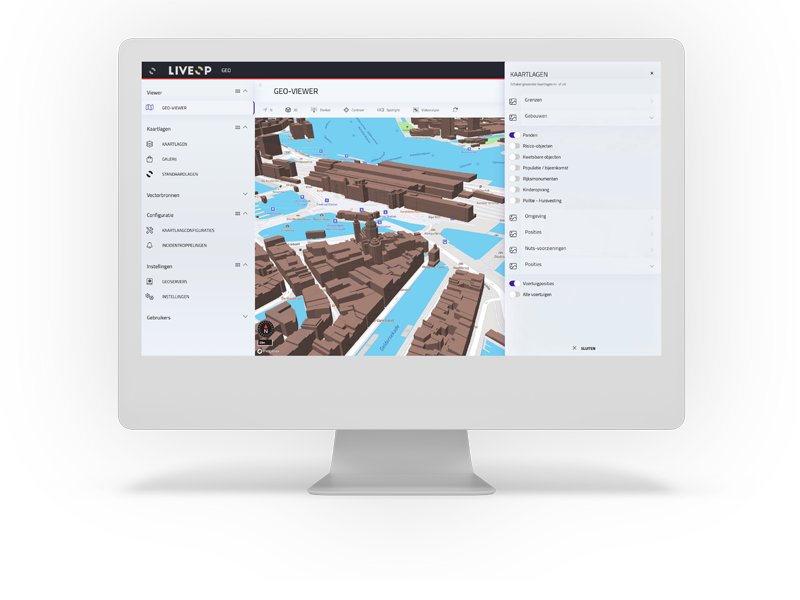 LIVEEVENTS
Support event advice and risk classification.
Event management
Advice for emergency services and municipalities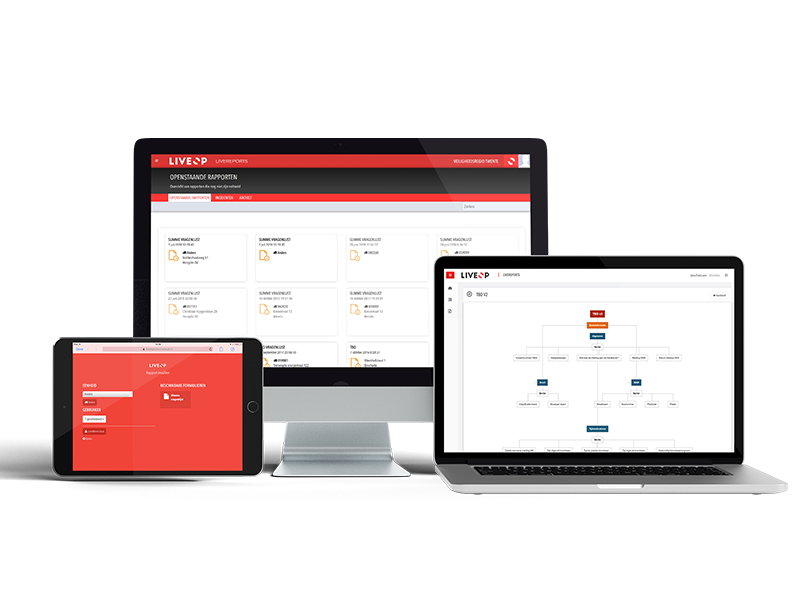 LIVEREPORTS
Improve strategic decisions with smart questionnaires and reports.
Smart forms
Integration of external data sources
Integrate into ETL processes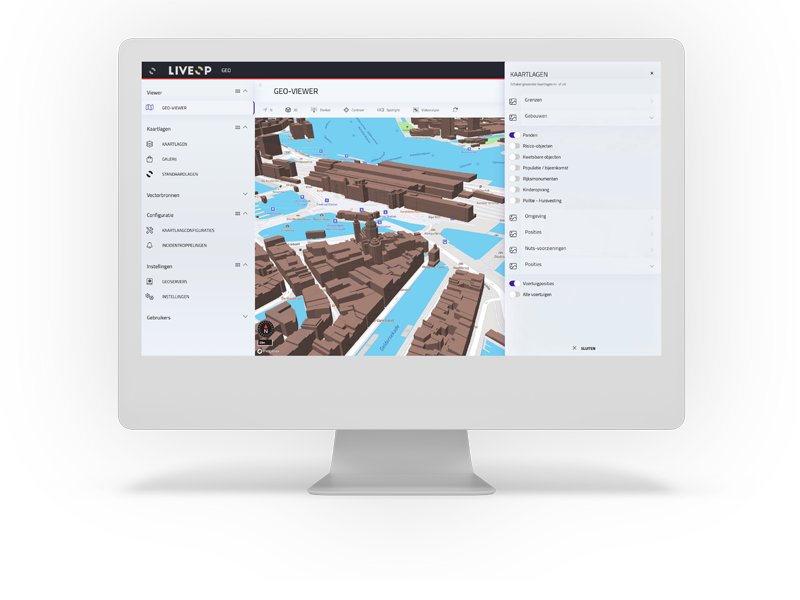 GEO
Advanced management of geographical data
Geo-viewer
Support for 3D visualization
Customized map layers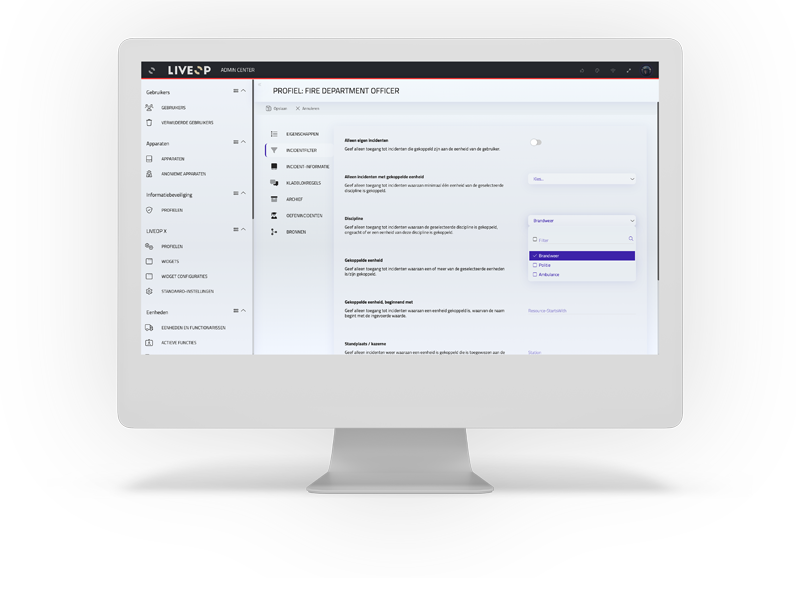 INTEL
Improve strategic decisions with smart questionnaires and reports.
Manage additional incident information
Automatically connect external data sources
DOCUMENTS
Manage and consult documents and procedures.
Document and procedure management
Smart links for suggestions
Integration with SharePoint Online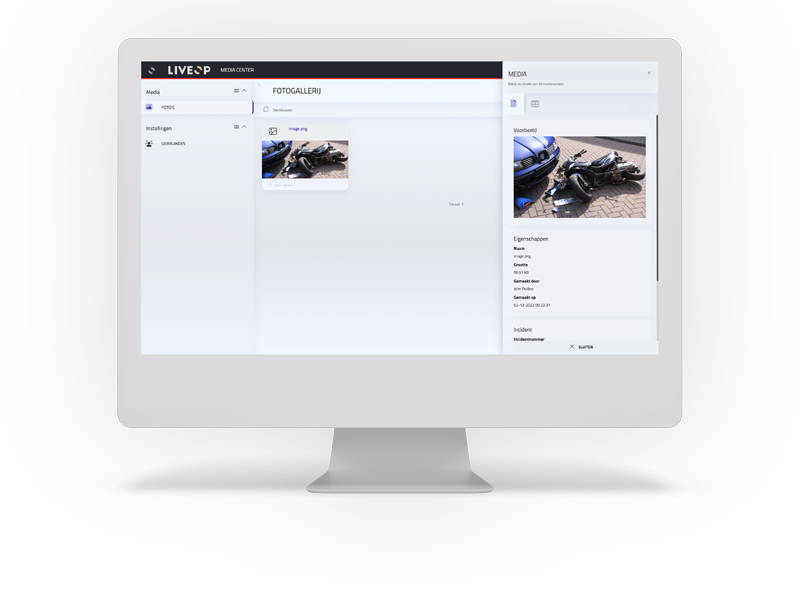 MEDIA
Photo library with AI support for archive management.
Archive for operational media
Search by keywords, location, and image content
Location-based archiving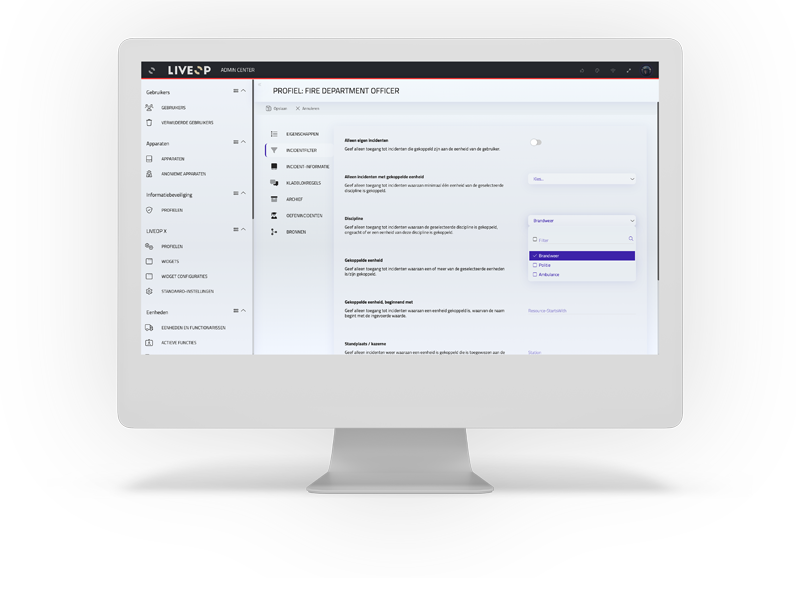 Admin Center
Independent management of your organization with advanced management tools.
User management
Advanced information security
Vehicle management
Personal user profiles
Single sign-on
MANAGE AND SECURE YOUR PLATFORM WITH CONFIDENCE
Single sign-on
For optimal ease of use and security, single sign-on is a valuable addition. In the LIVEOP platform, you can link your own identity providers, allowing for easy login using your Microsoft 365 organizational accounts, for example.
Export data to your own processes
Data available in LIVEOP, such as vehicle positions or road closures, can easily be exported to your own data warehouse. This allows you to easily utilize the data collected through LIVEOP.
Share knowledge with other administrators
LIVEOP actively works to connect users and administrators to support mutual knowledge exchange. The LIVEOP user group is incredibly helpful and ambitious, so you will undoubtedly quickly reap the benefits.
Centrally connect your own information sources
LIVEOP enables you to utilize your own information sources and source systems, giving you full control over your information management. With powerful management tools, you can quickly and easily link these to the LIVEOP platform.
Do you know how we can further improve our product range?